Part of:

Last change:
07.06.02
Tell a friend about Vesnin hram

The latest exhibition:

Carson C. T. Collins
Horizons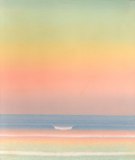 "I'm not sending a message," the artist says. "I'm offering an opportunity."
Coming soon:

Hello!
Horizons? Horizons! At firs I thought that this paintings are nothing but different colors. But then I took some time and watched them carefully. And I've found completely different world. Enjoy!